Mega64 Gamedays 2016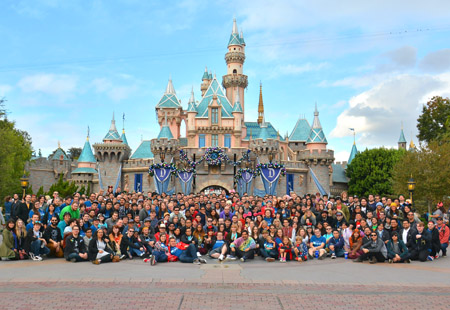 GAMEDAYS WEEKEND 2016!
In honor of all Mega64 fans and video gamists, we'll be spending a weekend in the Disneyland park area, throwing events, hanging out, and having a blast!
NOVEMBER 5th 2016: MEGA64 GAMEDAYS ALL-DAY OFFSITE EVENT with the full Mega64 crew in Anaheim PLUS SPECIAL GUESTS!
A full day of panels, booths, hanging out and having fun!
SPECIAL GUESTS: FUNHAUS and BUCKWHEAT GROATS! 
This day 1 event is SOLD OUT.
SCHEDULE: 
10AM - Hall opens, registration and booths open
11AM - Opening statements
11:15 - Buckwheat Groats LIVE
12:45 - FunHaus Panel
2:15 - Mega64 Panel
3:15 and after - Hangout and meet & greet
Our booths and exhibitors will be part of the same giant space and will be open during all shows. Visit as you please.
EXHIBITORS INCLUDE: FanGamer, Kickapoo Joy Juice, Mariel Cartwright and Tyson Hesse artwork, Mega64 merch, and a BOOTH OF MYSTERY Featuring a VIRTUAL CYBER-GUEST available at select breaks between panels. 
NEED A HOTEL ROOM? There is no official Gamedays hotel block. Try booking with the DoubleTree, or there are still a billion hotels and affordable rooms all around Anaheim/Disneyland area!
NOVEMBER 6th 2016: A DAY AT DISNEYLAND WITH MEGA64!
It's an excuse to go to Disneyland, basically. We'll be having a few meetups throughout the day.
SCHEDULE: 
12PM: First meetup on the old boat dock by the Matterhorn. Click here to see an image of that area!
3PM: Meetup in front of the Sleeping Beauty Castle for giant photo
6PM: Dinner meetup at the Hungry Bear Restaurant in Critter Country 
After each meetup, we'll go do stuff- feel free to tag along, or do your own thing and meet back up at the next scheduled event. Whatever you want to do! Gamedays is chill, bro!
Each person that meets up with us at Disneyland gets an exclusive Gamedays 2016 button!

Click here to purchase specially-priced Disneyland® Resort Theme Park tickets.
These special ticket prices are not available once you arrive at the Resort. 
Our ticket store closes at 9:00 PM PST on Friday, November 04, 2016.
Don't delay!  Prices are subject to change without notice.
This event is not an official Disneyland event.  We're just letting you know when we're going to Disneyland. Please behave yourself in a public setting.
---